What would you do if yesterday your drinking water supply was contaminated and you had no other source of clean water? For the people of Jaldar this is exactly what has happened. As a result of long standing forestry practices in the region, a large track of land separating the Yarapa River, a beautiful black water tributary of the Amazon and the larger Ucayali River has completely eroded. A couple years ago, the contaminated Ucayali breached the clean Yarapa River water, literally changing overnight the quality of water the people of Nuevo Loreto have access to. The people of Jaldar, a community of about 20 families living on the Yarapa River, manually collect drinking water in buckets every day from the muddy Yarapa River, the inky black Tahuayo River about an hour's hike through the hot jungle, or rainwater from tarps and buckets at the corners of the two non-thatched roofs in the village.

In March, 2013, a team of three EWB-Sonoma County Professional Chapter (EWB-SCP) members with the assistance of Amazon Promise traveled to Jaldar and nearby Nuevo Jerusalen, remote villages in the North Eastern region of the Peruvian Amazon to determine the viability of a water supply project. During this assessment trip, EWB-SCP held community meetings, performed interviews with community members, gathered health and community assessment data, and collected soils and water quality samples. The result of the adventurous trip was the establishment of a partnership and a signed Memorandum of Understanding with Amazon Promise and the village of Jaldar and Nuevo Jerusalen.
Upon returning to the states in March of 2014 our group began the process of alternative selection and system design. The chosen design was a rainwater collection system consisting of attaching gutters to the existing school house roof and directing flow through a disinfection system to a series of holding tanks, then on to a carbon filter and community tap.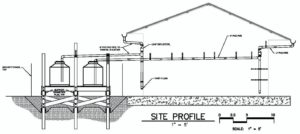 In June 2014 the Sonoma County Professional Chapter of EWB returned to Jaldar and Nuevo Jerusalen to construct rainwater collection systems in each of the villages. Eight EWB members and 4 members of our NGO partner, Amazon Promise, spent a total of 4 weeks in the villages constructing the systems along with the help of the residents of Jaldar and Nuevo Jerusalen.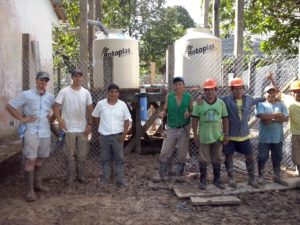 In summer of 2015, 2016 and 2017, the Sonoma County Professional Chapter of EWB returned to Jaldar and Nuevo Jerusalen to evaluate the success of the project and find out about opportunities for future projects in the area. In the meantime the Chapter is raising funds for potential water, sanitation and other projects to be implemented in the future and to continue to return to ensure the long term success in each village.